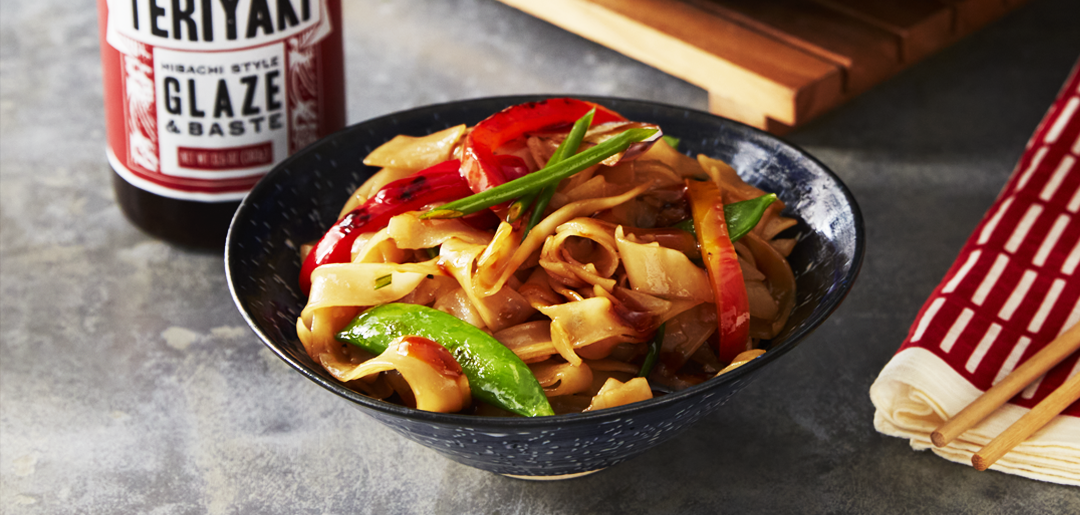 Teriyaki Stir-Fry Noodles
Yields: 4 servings | Cook Time: 30 minutes
Ingredients:
3 Tbsp. Neutral Oil

1 Onion, thinly sliced

3 Garlic cloves, minced

½ c. Japanese Eggplant, sliced

½ c. Red Bell Pepper, thinly sliced

½ c. Sugar Snap Peas, trimmed

¼ c. Green Onion, sliced

4 c. Stir-fry noodles, cooked (use your favorite, we love Udon)

½-1 c. Gojo Teriyaki Sauce

Salt and Pepper to taste
Directions
Cook stir-fry noodles following direction on the package and set aside.

Place eggplant slices on a paper towel and sprinkle salt on both sides. After a few minutes pat dry to remove excess moisture. Set aside

In a large wok or skillet heat oil over medium-high heat. Once hot add the onion and garlic and cook until the onion is softened. Add eggplant, peppers, and sugar snap peas. Cook until tender but still a little crunchy.

Add prepared noodles, green onions, and Gojo Teriyaki sauce. Adjust sauce, salt and pepper according to taste.

Plate and enjoy!
NOTE: Add your favorite protein of choice for a heartier meal.