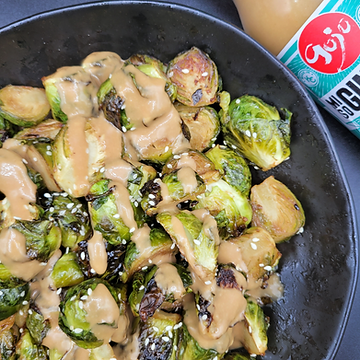 Miso Ginger Brussels Sprouts
Yields: 8-10 servings | Cook Time: 30 minutes
Ingredients:
2 lbs. Brussels Sprouts
2 T. Olive Oil
½ c. Gojo Miso Ginger Dressing
Salt & Pepper, to taste
Directions:
Preheat oven to 400F.
Trim stems of brussels sprouts and discard wilted leaves.
Cut sprouts in half. Toss sprouts with olive oil, Gojo Miso Ginger Dressing and salt & pepper until evenly coated. Transfer to a baking sheet and spread evenly.
Bake until tender and golden brown, but still firm, about 15 to 20 minutes.
Remove from the oven and drizzle with extra Gojo Miso Ginger dressing, if desired.
Serve and enjoy!