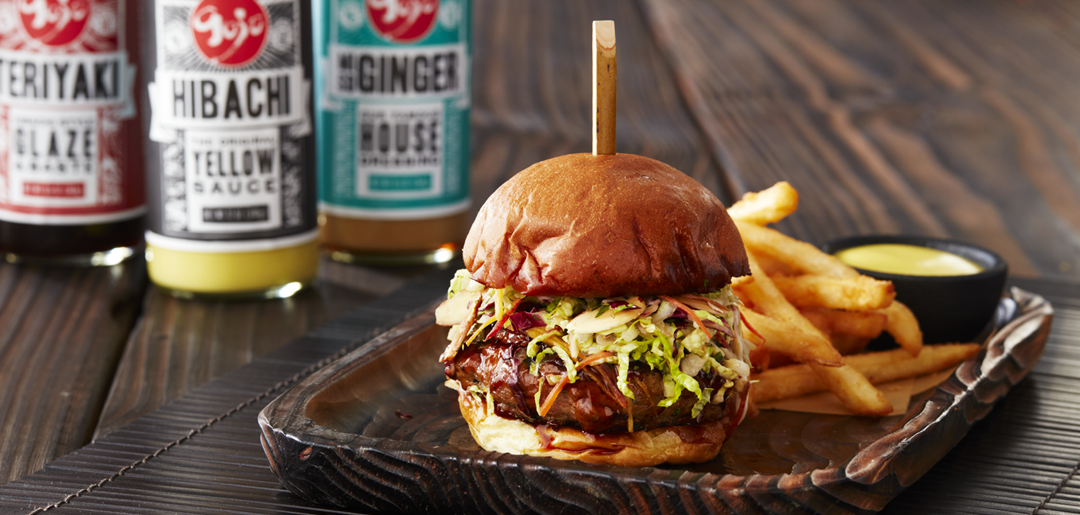 Yields: 8 sliders | Cook Time: 45 minutes
Ingredients:
For Sliders:
2 lb. Ground Turkey
¼ c. Gojo Teriyaki Sauce
2 Tbps. Chives, chopped
2 Tbps. Mint, chopped
1 Tbps. Fresh Ginger, minced
Salt and Pepper, to taste
8 Slider Buns, toasted (we love Hawaiian buns!)
2-3 Tbps. Gojo Teriyaki or Yellow Sauce for drizzling on cooked patties
For Miso Ginger Slaw
½ c. Gojo Miso Ginger Dressing
4 c. Green Cabbage, shredded
½ c. Red Cabbage, shredded
½ c. Carrot, shredded
2 Tbsp. Cilantro, chopped
½ c. Almonds, sliced and toasted
Salt and Pepper to taste
Directions:
Mix all slider ingredients in a medium bowl until well combined and form into 8 equal sized patties (about 4 oz. each)

Pour oil on a non-stick skillet and warm on medium-high heat. When pan is hot and the oil is glistening, place patties in the pan (make sure to not crowd the pan for a good sear!), and cover with a lid. Cook on first side for about 3-5 minutes until well browned. Flip the patties and cover with a lid until cooked through and the internal temperature reaches 165F. (Note: if the pan starts to burn or stick, you can add a few tablespoons of water to the pan and then cover with the lid)

While the sliders are cooking, toss all the Miso Ginger Slaw ingredients together in a large bowl and set aside.

Once the patties are fully cooked, drizzle or brush additional teriyaki sauce over patties. Place on toasted slider bun and top with slaw.

Use Yellow Sauce as a slider or french fry dip! Enjoy!
PRO TIPS:
Add bacon slices, avocado, or a fried egg to your slider for variety.
For a weekday meal, use a one-pound bag of precut slaw mix instead!