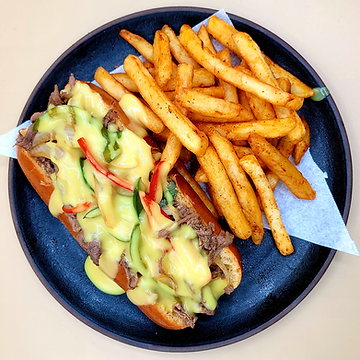 PHILLY STEAK SANDWICH WITH YELLOW SAUCE
Yields: 4-6 servings | Cook Time: 20 minutes
Ingredients:
1 lb. Steak, thinly sliced
2 T. Cooking Oil
1 Red Bell Pepper, sliced
1 Green Bell Pepper, sliced
1 Yellow or Red Onion, sliced
1/4 c. Worcestershire Sauce
4 Hoagie Buns
Salt & Pepper, to taste
Gojo Yellow Sauce, to taste
Directions:
Heat large skillet over medium-high heat. Once the oil is hot and glistening, add steak and cook until nearly cooked through. Add salt and pepper to taste.
Add onions and peppers to steak and continue cooking until the veggies are tender and the steak is cooked through.
Finish with Worcestershire sauce at the end of the cooking.
Serve on hoagie bun, drizzle with Gojo Yellow Sauce and enjoy!