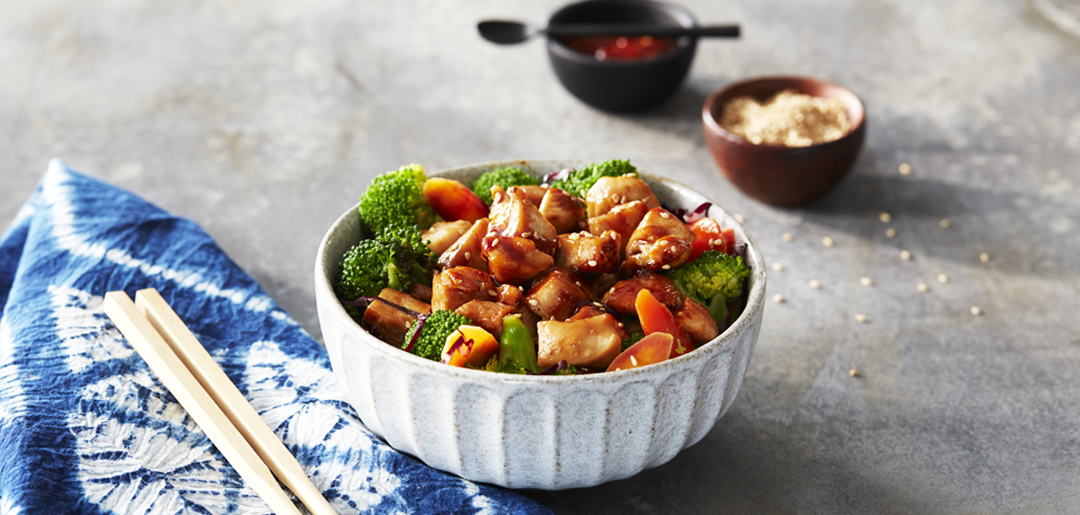 Yields: 4 servings | Cook Time: 30 minutes
Ingredients:
2 lb. Chicken Breast, raw, diced

2 Tbsp. Neutral Oil

1 c. Gojo Teriyaki Sauce

1 Tbsp. White Sesame Seeds (optional)

Steamed Veggies (we love broccoli, carrots, asparagus, and sugar snap peas)

Steamed Rice

Salt and Pepper to taste
Directions
Heat oil on medium-high heat in a large skillet. When the oil is hot add the chicken.

To get a good sear, make sure the oil is very hot before you add the chicken. Once in the pan don't agitate the chicken very much. It will release from the pan once there is a nice crispy sear, about 5-7 minutes.

Once the first side is done, flip the chicken over and sear. Cook until the meat is cooked through to an internal temperature of 165F.

Add the teriyaki sauce to coat the chicken and cook an additional 2 minutes. Turn off the heat, cover, and let rest.

In the meantime, fill 4 bowls with steamed rice and veggies of your choice.

Top with chicken, sprinkle on sesame seeds and ENJOY!