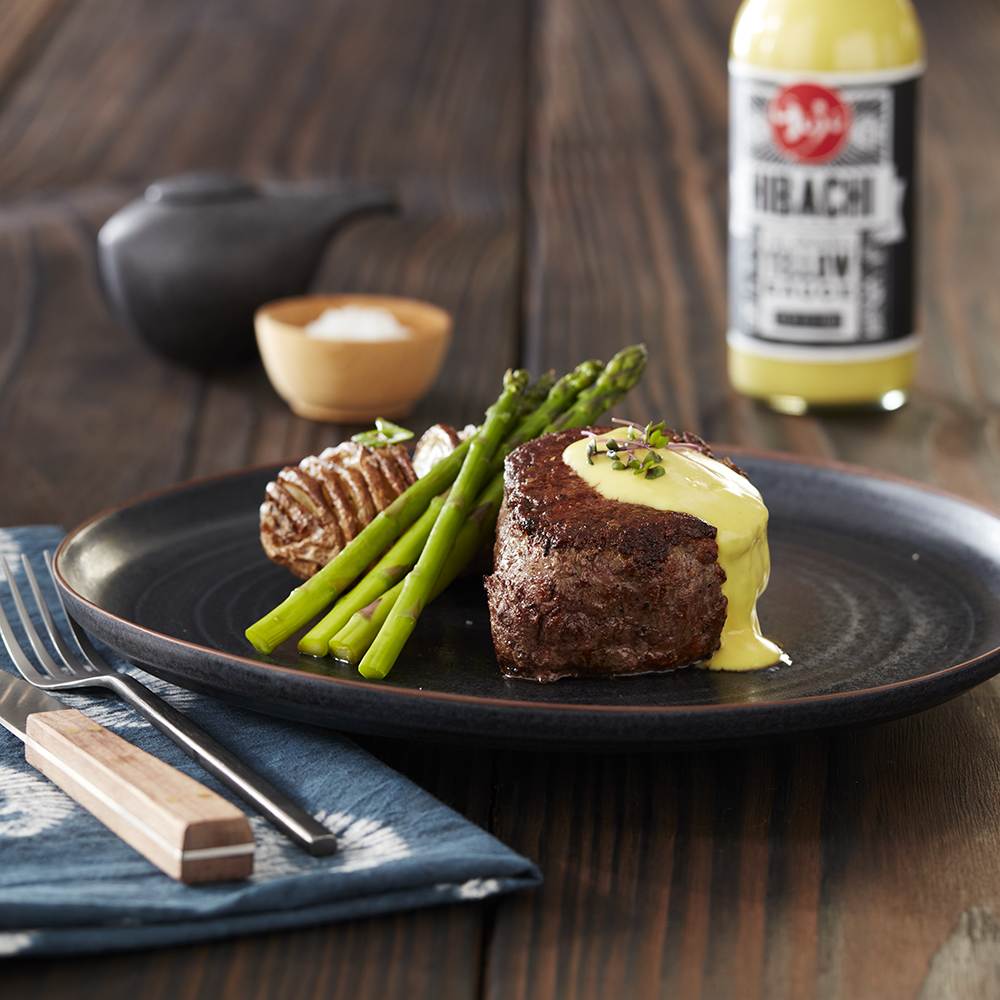 Yellow Sauce Steak & Potatoes
Yields: 4 servings | Cook Time: 75 minutes
INGREDIENTS:
Hasselback Potatoes:
4 Russet potatoes, medium sized

8 Tbps. (1 stick) Butter, room temperature

¼ c. Olive Oil

¼ c. Chives, chopped

Salt and Pepper to taste
Steaks:
4 Filet Mignon, 6 oz (or cut of choice)

2 Tbsp. Cooking Oil

2 Tbsp. Butter

4 Garlic cloves, whole

2 Rosemary Sprigs
DIRECTIONS
Potatoes:
Preheat oven to 425F.

Mix butter, oil, and chives together.

Scrub potatoes with cold water and pat dry. Make 1/4" slices across the potato making sure not to cut all the way through. Repeat with the rest of the potatoes.

Place sliced potatoes on a sheet pan. Rub salt and pepper on the skins. Brush the potatoes with the butter and oil mixture, making sure to go between each slice.

Place in hot oven and bake until golden brown and crispy, 50-60 minutes.
Steak:
Heat oven to 425F

Set steaks out at room temperature for 20-30 minutes before cooking.

Generously season all sides of the steak with salt and pepper.

Heat a large non-stick or cast iron pan over medium high heat and add oil. Once the oil is very hot and starts glistening place steaks in the pan. Cook, without moving the steaks, for about 2 or 3 minutes or until you have a nice crispy sear and flip to the other side.

Add butter, garlic and rosemary sprigs to the pan. Baste steaks with the melted butter and cook for 2-3 more minutes.

For a medium-rare, place the pan with the steaks in the oven and cook for an additional 5-7 minutes.

Once the steaks are cooked to the desired temperature, take out of the oven and let rest about 10 minutes before serving.

Drizzle with Gojo Hibachi Yellow Sauce and enjoy!
PRO TIPS:
Sprinkle crumbled bacon, green onion, cheddar cheese, sour cream, or yellow sauce on the potatoes for extra flavor.

Add steamed or roasted asparagus, green beans, or broccoli to your meal. We love to coat our veggies in Miso Ginger dressing before roasting