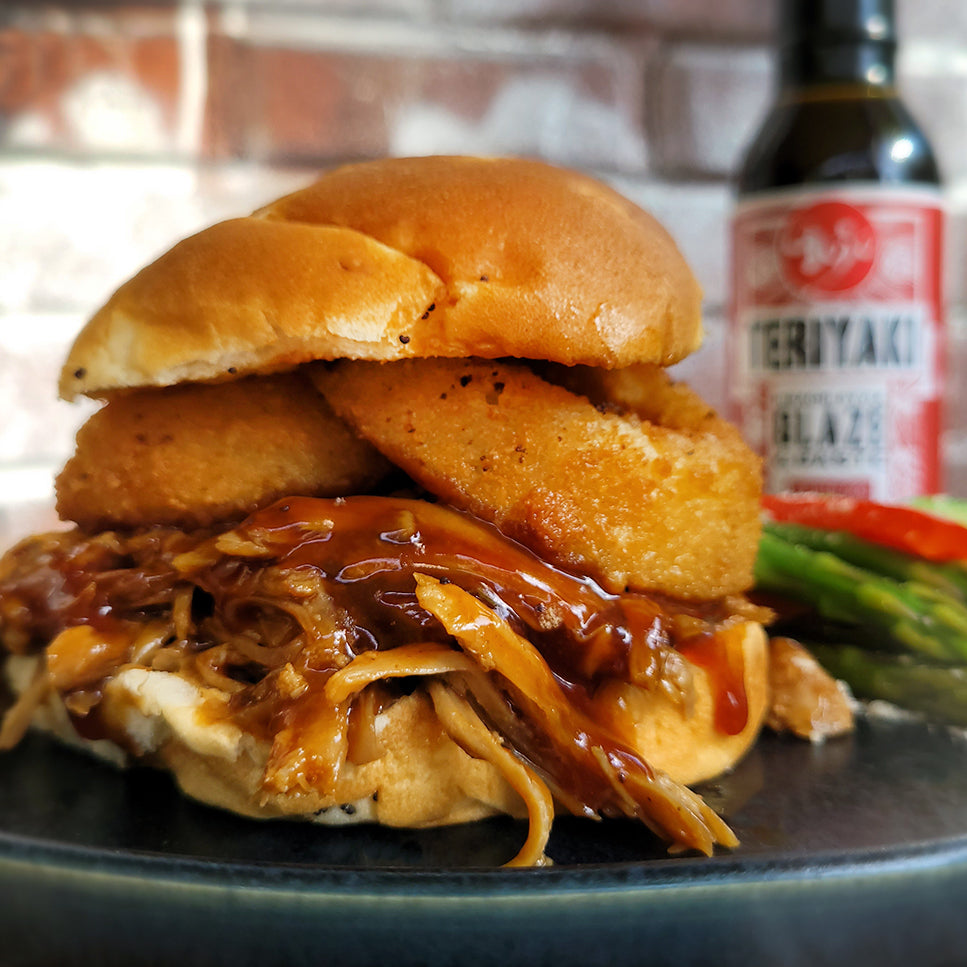 Yields: 6-8 servings | Marinade Time: 1 hour - Overnight | Cook Time: 3-4 hours
Ingredients:
Pulled Pork:
5 lb boneless pork shoulder/pork butt

2 T cooking oil

½ c water or chicken stock
Dry Rub:
¼ c. Brown Sugar

1 Tbsp. Mustard Powder

1 Tbsp. Garlic Powder

1 Tbsp. Onion Powder

2 Tbsp. Chili Powder

2 Tbsp. Salt

1 Tbsp. Pepper
Teriyaki BBQ Sauce:
⅓ c. Gojo Teriyaki Sauce

¼ c. Ketchup

3 Tbsp. Apple Cider Vinegar

1 Tbsp. Ground Cumin

1 Tbsp. Chili Powder

1 Tbsp. Mustard
Directions:
Mix dry rub ingredients together. Coat all surfaces of the pork shoulder with rub, wrap with plastic wrap and refrigerate for at least 1 hour or as long as overnight.

Preheat oven to 350º F.

Heat a dutch oven or a large pot on the stove top over medium high heat, add oil. When the oil shimmers, sear all surfaces of of the pork shoulder until golden brown. Leave the pork in the pot, add water or chicken stock, cover and place in the oven.

Roast for about 3 hours or until fork tender.

While the pork is cooking, mix all ingredients for the Teriyaki BBQ sauce together, set aside.

When the pork is tender enough to shred, take it out of the oven and let it rest for about 20 or 30 minutes.

Shred the pork and toss in BBQ sauce.

Serve on a bun, add your favorite toppings (onion rings or Miso Ginger Coleslaw) and enjoy!
Note: Dip in Yellow Sauce for extra Gojo flavor! Or serve with our Miso Ginger Coleslaw (https://www.gojokc.com/post/3-sauce-turkey-sliders)