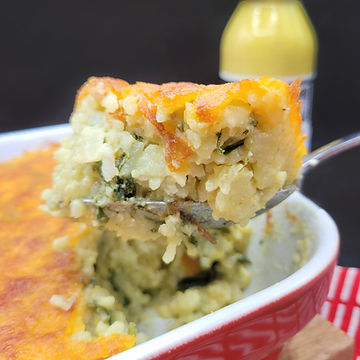 Yellow Sauce Rice Casserole
Yields: 8-10 servings | Cook Time: 60 minutes
Ingredients:
4 T. Butter

1 Onion, small diced

3 Cloves Garlic, minced

3 c. Fresh Spinach, tightly packed and uncooked

4 T. Flour

2 c. Milk

2 c. Gojo Yellow Sauce

3 c. White Rice, cooked

2 c. Cheddar Cheese, shredded

Salt & Pepper, to taste
Directions:
Preheat oven to 375ºF. Grease the inside of a 9"x13" casserole dish.

Heat a large skillet over medium high heat, add butter. When melted, saute onions and garlic until the onions are soft and translucent. Add spinach and cook until wilted.

Lower temp to medium heat. Add flour to pan, mix and cook for about one minute. Slowly pour in milk and Gojo Yellow Sauce. Bring to a simmer and cook until thickened. Season with salt and pepper to taste.

Turn off the heat and mix in cooked rice and half of the shredded cheese. Stir until well combined. Pour the mixture in the greased casserole pan and sprinkle the remaining shredded cheddar cheese over the top.

Bake for about 20 to 30 minutes until cheese is golden and slightly bubbling.

Drizzle with extra Yellow Sauce, if desired, serve, and enjoy!
NOTE: Add panko bread crumbs prior to baking for an added crunch! Or add extra protein for a heartier meal. We love ham, diced chicken breast or sauteed shrimp!